Boost your business on Amazon during the Golden Quarter: Planning for Q4 2023 (and the second Prime Day!)
– Written by Jérôme de Guigné
The biggest shopping months of the year are nearly upon us.
It's not just Christmas and other big holidays you need to plan for, but timing your promotions and stock levels to take advantage of big sales days like Black Friday.
And for the second time, Amazon is once again running a bonus autumn Prime Day, which is well worth taking advantage of.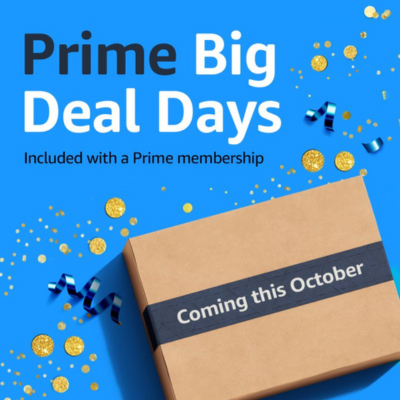 Here's the e-Comas annual guide to planning for Q4 2023.
Know your sale days
Amazon is once again planning a second Prime Day for autumn, following the success of last year's. 
This year it's called Prime Big Deal Days, planned for an as-yet-unannounced date in October, and will apply in 19 countries including most major marketplaces – full details here.
This will be followed by the usual Black Friday and Cyber Monday events in November.
Create Deals and Coupons in Seller Central for these days and use advertising campaigns to target the huge numbers of shoppers who browse these events.
Check last year's sales data to see if your products had any other 'peak days' which you could use to target customers with deals.
Deals aren't the only option: try using Amazon's free social products over these days to drum up more interest, like Amazon Posts and Amazon Live.
According to Retail Week, the fashion, health, beauty and tech sectors are becoming increasingly community- and influencer-led, particularly among millennials and Gen Z, so if that's your product and your market, these channels are well worth exploring.
Bear in mind consumers shop around, using your website and other online marketplaces to check prices. So a good deal on Amazon is more likely to sell if there's a clear price differential between other sources.
Maximise your ad campaigns
Busier periods on Amazon = more traffic, which means two things: your budget will get used more quickly, and your campaigns will have higher competition.
Here's our recommendation: don't focus your spend on the big days only, but prepare and pay close attention to the lead-up days.
Find out what your best keywords are and invest in those to build up ranking.
If you believe those are your best keywords, your competitors will too. That's why you might want to keep an eye on the ASINs that start to appear at the top of search results: this way, you will be able to target your competitors' listings on the event days. Let them spend for the keywords, and you will get the sale on their product detail pages at a fraction of the cost!
Pay close attention to the bidding strategy you select: if you have sufficient budget, go for Amazon recommendations. If your budget is limited, analyse performance through the 2-3 weeks prior to the event, how it matches last year's performance, and set your budgets to guarantee visibility but also ROI.
Don't forget that Attribution campaigns are also an option: Amazon loves external traffic, so if your customers are searching for Prime Day or Black Friday deals on Google or social media, you have to be there to capture that traffic.
Finally, if you have access to it, run AMC reports to distribute your budget across different campaign types and to guarantee the best Awareness to Consideration to Conversion mix.
Do your research
Trends change all the time in the different product categories on Amazon, and these affect – and are affected by – Christmas gift ideas.
As an example, retailer John Lewis has noticed a rise in haberdashery sales as customers choose to make their own gifts in the current economic climate. Personalised, 'unique' items are also expected to be big hitters, as well as sustainable gifts.
One of the best ways to keep up is to check Amazon's Trending/Best Sellers list, which you can filter by department to find what's popular in your own category.
Then you can invest in bringing that product to market, or in boosting your advertising around an existing product. Make sure new products are listed by the end of October so you can build reviews.
One ever-popular and relatively easy product type is the holiday bundle. Offer gift sets of your products to attract Christmas shoppers. The concept lends itself especially well to the health and beauty, grocery and toy sectors. 
Amazon is very keen to promote its small business side at the moment: if you're a family business, or selling handmade products, look out for these extra opportunities.
Optimise your listings content
A little clever content goes a long way.
Assume that most people shopping for the next three months are thinking about Christmas, and promote your products accordingly – as Christmas gifts, or festive necessities. Optimise your listings with Christmas keywords, such as 'gift for him' and 'stocking fillers', and use these in your CPC campaigns.
Try including a Christmas-themed photo or two in your listings at this time of year. You could even set up a Christmas shop in your Brand Store: you can set up different versions of your Brand Store and set them to go live on certain dates.
You should always aim to have good listings: plenty of images, video, and A+ content below the fold. We're hearing that Alexa may be updated to answer the question "tell me about the product" on Amazon, so make sure your bullet points make sense when they're read aloud, and ideally are no more than one sentence long.
Consistency is key for listings content. Use a Product Experience Management tool, such as Salsify, to manage and optimise your content and ensure it's holiday-ready.
Predict your stock levels
Many brands struggle to plan their stock efficiently for Q4, so staying in stock gives you a competitive advantage.
However, Amazon's inventory storage fees are higher during Q4, so you need to predict stock levels accurately. Overstocking is expensive, while understocking damages your sales rank and your chance of getting the buy box.
To accurately predict your stock levels, check your data from the same period last year. Last year's Q4 sales and top-selling products are the obvious ones to check, but look at your sales for the year to date and check against last year's to see what the increase is likely to be.
If you've only joined Amazon this year and don't have this data, a decent rule of thumb is a 30-50% increase in sales over Q4. Or ask us – we can help you predict it more accurately.
Did you know Amazon now offers a 3PL warehousing and distribution service for long-term, low-cost bulk inventory storage? This "supply chain as a service" solution provides automated replenishment to fulfilment centres, with simple pay-as-you-go pricing.
It's currently only available in the US, but that includes sellers outside the US who sell their products on Amazon.com. More info here.
**\
Want more guidance on how to make the most of your Amazon presence this holiday? Talk to us!**