Start building your livestream following today: our 5 steps to getting started on Amazon Live
– Written by Jérôme de Guigné
In a recent blog we talked about Amazon Live – what it is, the benefits of it, why you should try it. The 'what' and the 'why'.
Here we present the 'how'. This is our guide to getting started on Amazon Live.
How do I get started on Amazon Live?
It's very simple. Five steps:
1: Download the Amazon Creator App.
It's a great app with lots of built-in tools to build and enhance your stream. You log in with your existing Seller Central/Vendor Central account. That bit's easy. Any Seller or Vendor selling on Amazon in the US can use Amazon Live – you just need to be enrolled in Amazon Brand Registry.
2: Schedule your Amazon Live stream with the app.
Again, easy. Just pick a date and time – preferably one when your viewers will be most likely to watch. And tell your intended audience it's happening, with social media marketing and advertising.
You'll be livestreaming from the Creator app, on the same device. Amazon asks that you put your device in 'do not disturb' mode while you're streaming, and you should make sure your battery's fully charged too.
3: Prepare your content for the stream.
This is where it gets a bit trickier. What products are you going to talk about? What's your main focus for the stream? Will you offer a discount to viewers?
A clear theme between your products works really well, and helps your stream flow. The likes of Russell Hobbs, for a really obvious example, would benefit from talking about a kettle, matching toaster and coffee maker, rather than switching from the kettle to an iron, or a fan heater.
We recommend you practise what you're going to say beforehand. This is no ordinary sales pitch, and it can be quite nerve-wracking on the day. Think about how you'll feel if there are loads and loads of people watching – and how you'll feel if there's hardly anyone. And keep smiling regardless!
4: Prepare the practical elements of your Amazon Live stream.
You'll need to link your relevant products so they appear below the stream in your product carousel, and if applicable, add a promo code (in the app's 'engage with viewers' section).
You also need to check your technical stuff. Make sure your internet connection is strong enough for the stream. Do a practice run with your equipment to make sure your microphone, video and sound are all working well. If they're not, it's the fastest thing that will turn off viewers.
There's also Amazon's guidelines to comply with. Amazon will be moderating your stream, so familiarise yourself with the community guidelines beforehand (in the app's 'settings'). Amazon expects you to have permission from third parties, including releases from people appearing in the stream.
5: Livestream on Amazon Live!
Here we go, good luck! Use the Creator app to highlight the product you're talking about by selecting it in the product carousel. Have fun. And don't close the Creator app, or toggle between apps, while you're streaming.
Here are a few more tips and things to bear in mind:
Amazon Live has a chat function at the side of the screen. If the viewers chat to you, chat back!
It's a live experience – engagement is the point. If you see someone saying hi or asking a question, and you answer it live in the video, it can help build loyalty and persuade people to buy.
It can be trickier when you've got hundreds or thousands of viewers, but there's a simple solution – get a helper to monitor the chat while you're streaming. You can do this with a second device, logged into the same account.
Use livestream broadcasting software. The Creator app allows you to choose broadcasting software as your video source, then you can use that software to better control your sound and video quality, switch between different cameras, and run pre-recorded video. We like OBS, which is free.
Use influencers. If there's no one at your business who fancies being in front of the camera, you can ask a trendy person to promote your products for you on their stream.
It's increasingly part of our clients' marketing strategies: contact influencers who are using Amazon Live and pay for them to promote your product on their pages.
You can offer influencers a certain percentage or amount per unit sold via the influencer's livestream. Other influencers will ask for a fixed payment, regardless of sales.
What happens after the Live stream ends?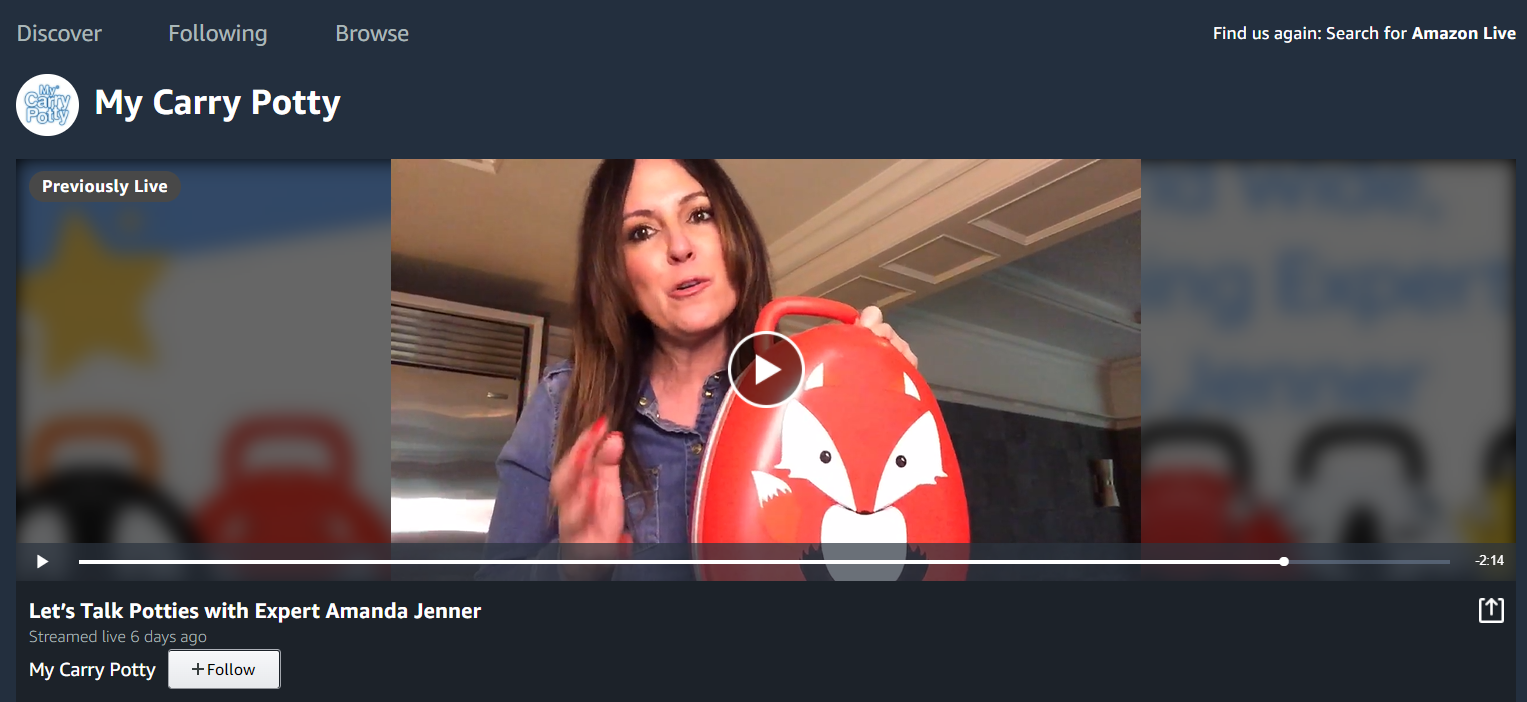 It will remain on the different placements on Amazon, including the Amazon Live category page and product page, so people can still watch it.
Additionally, you can look at the performance of your livestreams on the creator app, where you have access to metrics including views, sales, and engagement.
Amazon Live allows you to build a following. Your followers will be notified whenever you start a new livestream, or make other updates. It's an exciting opportunity to grow – you can win new customers who don't just buy your products once and forget about you, but stay aware of and interested in your brand.
It's a great opportunity – and we can help you make the most of it. Get in touch with us today!