Amazon Prime Day 2023: 6 great reasons to be involved
– Written by Jérôme de Guigné
Prime Day is almost here!
The big day has been announced for 11-12 July, a bumper two-day event that's likely to surpass even last year's, which was the biggest ever.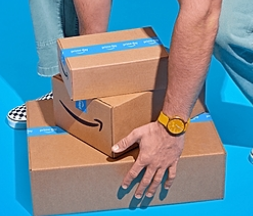 The eCommerce sector is now back to its pre-pandemic trend of growth – but it's still growing, so there's no reason this year's Prime Day won't be even more successful.
Here are six really good reasons why you should make sure you're capitalising on the opportunities offered by Prime Day – and how to do it.
Reason 1: It's a massive sales boost
Let's start with the obvious benefit: Prime Day is great for revenue.
There's a massive increase in traffic, so as long as your products are seen, it's highly likely you'll boost your sales.
Last year saw 300 million items bought and $1.7bn saved by Prime members.
And there are new ways this year of catching that traffic, with new deal offers from Amazon including Invite-only deals for the hottest products: Prime members have to request an invitation to access these deals.
Amazon is also applying Prime Day deals across Buy with Prime, its inventory and shipping programme for third-party retailers off Amazon.
As well as those, Prime Day can help you build brand awareness, attract new potential customers, get more reviews, increase your sales ranking and improve traffic to your own website.
Reason 2: It's not just one day!
It's not even just two days, or just a week: both the lead-in and lead-out periods around Prime Day can be used to boost your campaigns and see incredible results.
Targeting top- to mid-funnel shoppers in your product category before the event, and remarketing to both newly acquired shoppers and those who missed Prime Day afterwards, will drive additional traffic and revenue.
This year Prime members can subscribe to deal alert notifications related to recently viewed items, so ensuring your products are visible in the lead-up is crucial.
Read lots more ad strategy tips in our blog.
Reason 3: It's ideal for product launches
Some businesses use Prime Day as a launch pad for a new product or brand. Follow in the footsteps of Lady Gaga, who used it in 2019 to launch her cosmetics brand Haus Laboratories in an Amazon-exclusive debut. Customers were able to preorder products on Prime Day, ahead of the official launch two months later.
It must work for Gaga, because Haus Laboratories has participated in every Prime Day since, offering bigger and bigger discounts – 30% off in 2020, 60% off in 2021 and 70% off in 2022. It's quickly become one of the world's top 10 biggest celebrity beauty brands.
It works for Gaga, and it works on a much smaller scale, too. With new tools allowing you to pre-sale your products, and to let your customers subscribe to deal alerts, you can create a lot of buzz for your new line before Prime Day and test customer demand. Use your Brand Store and Amazon Live to create more interest. 
Reason 4: It's great for live streamers
Amazon is continuing to build its social media side. Amazon Live, Amazon Brand Stores and Amazon Posts are free tools helping brands to build a loyal following.
At the same time, it's leaning in to influencer culture. On Prime Day influencers will be able to curate early deals on their Amazon storefronts, including exclusive promo codes for certain brands, and 'influencer picks' will be visible on the Inspire Tab of the Amazon Shopping App.
Last year Amazon Live streamers got 100 million views over Prime Day, and Amazon is promoting it again this year, with famous influencers booked to highlight Prime deals. It's a great free space to talk up your own discounted products.
Reason 5: It's great for small businesses
Last year, a third of all items bought on Prime Day were bought from small businesses – in fact, sales growth among small- to medium-sized companies outpaced Amazon's retail business.
Amazon was particularly focused on this in its press coverage of the event, and puts a lot of focus on small businesses generally – after all, it's good for Amazon's public image to be seen as a platform for family companies and indie makers.
This year it's particularly promoting Black-owned, women-owned, and military family-owned brands, as well as independent artisans, using amazon.com/primedaysmallbusiness.
Reason 6: Household items are on the rise
Lots of Prime Day deals last year were for household items, an indication of the effects of inflation and a changing consumer mindset towards Amazon.
That trend looks set to continue, and interestingly, Amazon is promoting one household category in particular this Prime Day: back-to-school (and off-to-college) deals.
Its shopping guides for this category emphasise the need to find low prices and save money on these notoriously expensive essentials.
It's another change from the former dominance of big-margin electronic products in top Prime Day purchases – and creates room on the platform for even more types of retailers to thrive.
We'll be chatting and posting lots about Prime Day in the build up to the event – follow us on LinkedIn to find out all you need to know!