Avoid third-party Sellers: How to sell on Amazon.com through your own account (it's easy and profitable!)
– Written by Jérôme de Guigné
Are you using a third-party company to sell your products on Amazon?
If you are, there's no shame in it. At e-Comas we even offer it as a service to clients.
BUT having your own Seller platform on Amazon Marketplace is a much simpler, more profitable business solution – and less complicated than you think.
Here's why Amazon Marketplace – also known as the 3P model or Seller Central – is right for you.
What is Amazon Marketplace?
Amazon Marketplace is the platform for Sellers on Amazon to sell their own products with their own prices. This can also mean taking care of their own logistics and shipping.
Also called 3P, it's the opposite of 1P or Vendor selling on Amazon – which is where Amazon effectively buys your goods from you, and sells them on as Amazon products.
To put it simply, and from the consumer point of view, Amazon Vendor products will display as both 'shipped by' and 'sold by' Amazon.
Seller products are 'sold by' the Seller in question.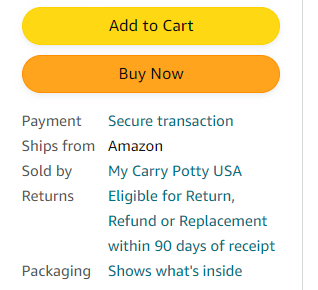 Why should I become a Seller?
We come across a lot of companies in the US that are using 3Ps to sell their products on Amazon, without realizing how easy it is to sell through your own Amazon account.
Using a 3P is fine, it's just not really necessary. It's usually more cost-effective to sell through your own Seller account with help from an e-Commerce agency (like us), and your products will be sold under your own brand.
Did you know that with your own Seller account, you can still be eligible for Prime delivery and you don't even have to take care of shipping yourself? You can use Fulfilled by Amazon (FBA) and Amazon will store your products in their warehouses and ship them.
Amazon even subsidizes the cost of FBA, because it owns the entire logistics chain. Amazon claims FBA is 32% cheaper than the slowest shipping from other major carriers.
Becoming a Seller also means you can sign up for Brand Registry, which protects your products and IP from counterfeiters as well as unlocking loads of Amazon benefits.
These include being able to open a Brand Store, which is your storefront within Amazon: customers can visit your Brand Store to see all your products, which encourages repeat purchases and customer loyalty.
That's a benefit that's only possible with your own Seller account: we strongly advise against ever granting Brand Registry to a 3P Seller. If you do, you're effectively telling Amazon that that third party owns your brand rights, and giving them a level of control that should stay firmly within your business.
Lots more Brand Registry benefits in our white paper.
What are the benefits?
There are several major benefits:
1. A lot more control over how your brand is presented.
We mentioned Brand Registry and Brand Stores above. Brand Stores is just the beginning: Brand Registry gives you lots more control over most aspects of how your products and content are presented.
Did you know, for example, that you only get A+ content – that is, rich text and images, formatted how you like, below the fold on your listings – if you're enrolled in Brand Registry?
Also, most types of Amazon advertising are only available if you're enrolled in Brand Registry. You can try Video Ads and Sponsored Brands, getting creative with combined campaigns that see a greater uplift in sales and ROAS.
2. You can make a lot more profit.
Sellers typically take a bigger cut than an agency helping you to run your own account.
And they're a lot less likely to show you all the cool ways you could be leveraging Amazon to make more money.
You might ask, if e-Comas also acts as a 3P Seller to some customers, why are we trying to persuade you to become a Seller yourself?
The answer is, we're in the business of growing businesses. Becoming a Seller yourself and enrolling in Brand Registry gives you many more ways to harness the power of Amazon, and scale your business globally – and the bigger your business is, the more lucrative a client you are for us.
3. You can set your own prices – and still benefit from Amazon logistics.
Amazon has invested heavily to ensure it's easy to operate as a Seller on Amazon, for the benefit of customers.
FBA is a no-brainer. It enables free one-day and two-day shipping, so you qualify for Prime, which means you're more likely to be chosen by customers. With FBA, Amazon handles packing, delivery, customer service and returns, so you can outsource a major part of your operations.
Amazon has also recently installed its own "supply chain as a service" warehousing solution in the US, giving Seller long-term, low-cost storage for bulk inventory, with automated replenishment to fulfilment centres.
There are no long-term contracts, and the pricing is a simple pay-as-you-go model. And you can use it to distribute to all endpoints, including wholesalers, brick-and-mortar and D2C.
Is Amazon Marketplace easy to use?
It's much easier than you might think. Especially if you get an agency to help you: doing that is more cost-effective than using a 3P Seller, with all the benefits of your own account.
How do I join?
Amazon's guide gives you a lot of helpful information, and this blog from e-Comas tells you how new Sellers qualify for an impressive package of incentives including a $50,000 bonus.
Or you can contact us at e-Comas today and we'll walk you through it!