New Ads products, and our very own ambassador… Everything we learned at UnBoxed '23
– Written by Jess Chapman
We're back from our favourite show of the year, with some fantastic news for Amazon sellers… and a bit of personal news we're really proud of.
UnBoxed is the big one: Amazon Ads' flagship event, where it unveiled several new innovations for marketers in New York City last week.
Here's our round-up of the news.
Mr Ambassador!
We're very proud to say our CEO Jérôme de Guigné is now an Amazon Ads Ambassador – one of just seven industry thought leaders chosen for the role because they invest a lot of their time in educating the community.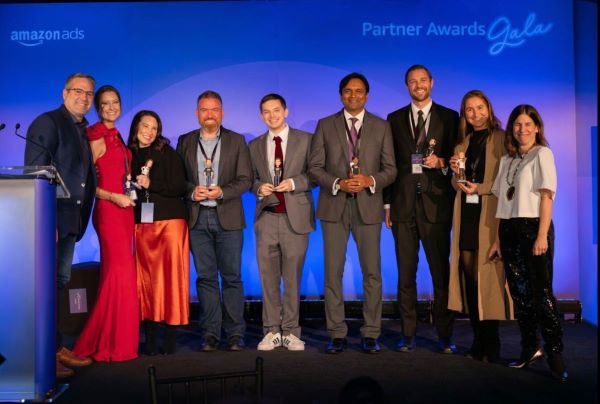 Jérôme and the other six Ambassadors - Melissa Burdick, Gloria Steiner, Joe Shelerud, Destaney Wishon, Jack Lindberg and Sreenath Reddy - were distinguished guests at the 2023 Partner Awards Gala last Monday, and were all invited onto the stage at the gala to be recognised for their commitment and contributions.
Jérôme says: "It's such an honour to be named an Amazon Ads Ambassador, and a real crowning achievement to mark 10 years in business as e-Comas. It's nice to be singled out and made to feel very special, but it's all down to the incredible 'e-Comets'. This is the result of years of collective efforts. Thanks team!"
To be seen on TV
Amazon introduced a new Ads platform: Sponsored TV.
It's a self-service streaming TV ad platform, available only in the US to start with, that will allow advertisers to reach viewers of Amazon Freevee, Twitch and Fire TV apps.
Aimed at brands of all sizes and with no minimum spend, Sponsored TV opens up the big-budget world of TV advertising to lots of brands that have never tried it before.
It's effectively the idea of Sponsored Products but as ads on streaming TV. It changes the game, making it super easy for anyone to go to the consideration or awareness phase of the marketing funnel.
Ads will also start to appear on Prime Video in early 2024. 
Nella Argenziano, e-Comas Head of Advertising, says: "TV is still a huge medium of entertainment, with the average US adult spending about two hours a day watching it, and above five billion people owning a TV worldwide. 
"Are we going to ignore the potential of that space and the more relaxed approach of the consumer as opposed to browsing hundreds of apps at once on their mobile phones? We can create meaningful connections with the shoppers through beautiful and memorable videos across multiple platforms."
AI will bring images to life
Amazon also announced it is rolling out a new AI-powered image generation tool to help brands create more engaging ads.
Amazon says it has launched the tool in beta to "remove creative barriers and enable brands to produce lifestyle imagery that helps improve their ads' performance".
Brands will be able to generate images of their product in a lifestyle context: for example, a kitchen appliance on a worktop.
Our CEO Jérôme says: "You want to make a Halloween version, or a Christmas one? In a few clicks your pictures will be customised. In terms of conversion rate, and therefore ROI for advertisers, this is a huge step."
The tool is easy to use and requires no technical expertise. It's available in the Amazon Ad Console.
More data clean rooms
Amazon is expanding its "clean room" solutions with Amazon Publishing Cloud, designed to give greater privacy and more data insights to media owners and advertisers using Amazon DSP.
Publishers can plan programmatic deals and activate them in Amazon DSP, and analyse their first-party signals together with Amazon Ads insights.
It's a great example of how Amazon Ads is collaborating with AWS more and more to offer technical support to bring more value to brands advertising across many different platforms.
Greater AdTech capabilities
Amazon announced several new Ads capabilities for improved advertiser outcomes, based on actionable insights.
They include:
A new cross-channel Planner to give advertisers more control to understand and define audience reach, across both Amazon and third-party sites
Ability to activate and optimise campaigns based on expanded Amazon Marketing Cloud (AMC) Audiences, conversion events and real-time metrics
New measurement solutions to help advertisers understand which campaigns inspired customers.
On AMC, Amazon Ads is also making it easier to write queries even if you don't know SQL, lowering the barrier to entry and creating greater efficiencies.
There's greater integration between all the Amazon Ads products (Sponsored Product, Brand, Display, TV, DSP, etc.) within AMC, and the integration of AMC with AWS leveraging huge tech capabilities. This is becoming the biggest competitive advantage of Amazon Ads.
Nella says: "As a big fan of advertising techniques that help increase brand awareness, this edition of Amazon UnBoxed surprised me positively.
"My favourite aspect has been the focus on upper funnel: the ability to inform creatives through prompts opens up many possibilities, including the use of information such as negative reviews to create the thought of positive product experience. How? Take all the negative reviews on competing products and turn them into images that say the opposite. Is the competing perfume bottle too big or weirdly shaped to carry around? Put your perfume bottle in a small handbag to convey the message of easy portability!
"Amazon is truly evolving into this multi-channel, multi-product platform that makes it easy for us Retail Media people to test, explore, measure and succeed."
Jérôme says: "Amazon is unbeatable on low funnel activation, and it's now step by step mastering all the steps of the funnel making it an unstoppable force in the space. More than ever Amazon is the most efficient place to build your brand – and even more so globally."
He adds: "This year's UnBoxed was the best I have been to, and probably the best event of this year. Amazon is innovating at an incredible pace, and the whole ecosystem, I believe, feels very lucky to be part of this journey. Above and beyond!"