Introducing Compas Dashboard - The All-In-One Reporting Tool for Amazon Sellers
– Written by Jérôme de Guigné
e-Comas is delighted to launch our brand new all-in-one reporting tool for Amazon sellers: Compas Dashboard.
Compas Dashboard allows sellers to manage all their operations in one place: their retail channels, product information, sales, advertising, shipping, customer service, and more.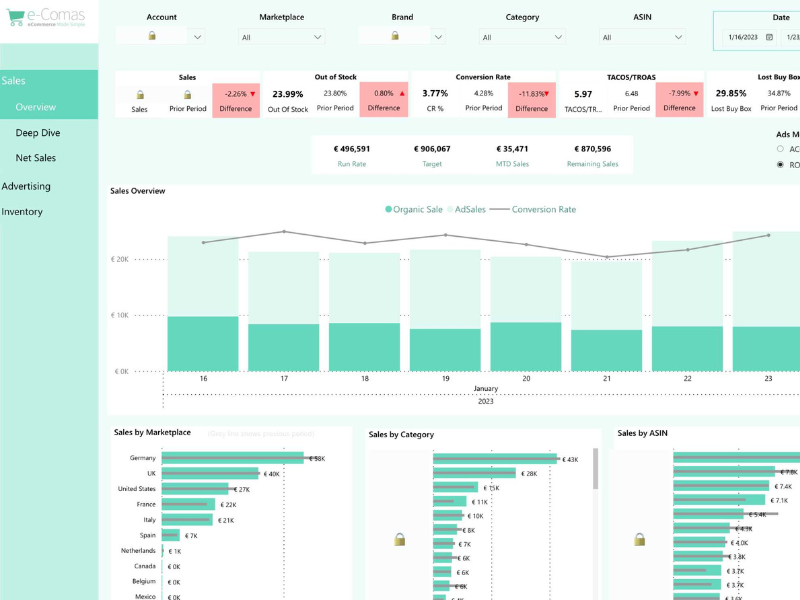 What is Compas Dashboard?
Compas Dashboard is a new reporting tool that helps Amazon sellers funnel all their useful business data into one place. With Compas Dashboard, you'll have better visibility over your business and will be able to make data-driven decisions that drive growth and success.
One of the key features of Compas Dashboard is its ability to aggregate all of your sales, advertising, and product information in a single place. You can easily see the big picture of your business and understand how different aspects are impacting your sales.
For example, you can see how changes in your advertising budget affect your sales and make adjustments accordingly. The beauty of it is that you will be able to see both your total sales as well as a Real ROAS, as it calculates your ad spend from all channels.
Connect to every platform
You will be able to connect live to more than 100 data sources, including advertising platforms and marketplaces. These include Amazon DSP, Facebook Ads, Google Ads, Shopify, Amazon Attribution and dozens more – there's a full list here. If one of your selling points is not on our list, we're committed to connecting it within two weeks.
As well as your selling points, you can connect analytics tools, payment tools, customer support services, accounting software and shipping suppliers. So you can link up Salesforce, SEMRush, Zoom, Calendly, Mailchimp, Quickbooks and more… and get a complete picture of your business, with the ability to use all possible data.
Another key feature of Compas Dashboard is the ability to track your blended sales and blended advertising metrics over time. You can see how your business is performing week over week, month over month, and even year over year. This data can help you identify trends, understand the impact of different marketing initiatives, and make informed decisions about where to allocate your resources.
Insights on products and campaigns
Compas Dashboard also provides you with insights at the product level. You'll be able to see how your products are performing, which ones are selling well, and which ones need improvement. This data can help you make decisions about which products to keep, which to discontinue, and which to invest in.
In addition to its reporting features, Compas Dashboard also makes it easy to track and manage your advertising campaigns. You'll be able to see how your campaigns are performing, and where you're losing money, so you can make data-driven decisions about where to allocate your advertising budget.
Save time and money
One of the biggest benefits of using Compas Dashboard is the time and effort it can save you. It aggregates all your data in one place, so you don't need to spend time logging into multiple systems and piecing together information from different sources. You have all the data you need to make informed decisions, right at your fingertips.
Compas Dashboard is easy to use and accessible from anywhere, on desktop, tablet, or smartphone.
e-Comas's Senior Consultant Claudiu Clement says: "As an Amazon seller, you have a lot of different aspects to manage in your business. From product information, sales, and advertising, to shipping, customer service, and more.
"On top of it you might sell on other channels as well, or have other Ads platforms, like Google Ads, Linkedin Ads, TikTok Ads. It can be challenging to keep track of everything and make informed decisions based on the data you have.
"That's where Compas Dashboard comes in. We've built this to give our customers and other Amazon sellers full visibility over their business, and the ability to make data-driven decisions that drive growth and success.
"It's a powerful reporting tool that we think will have a huge impact for anyone selling on Amazon."
More about Compas Dashboard
Compas Dashboard is built on top of Google and Microsoft cloud infrastructure, ensuring the safety and accessibility of data at all times. We are committed to providing customers with a reliable, secure and action-enhancing tool that has minimal downtime and perfect data accuracy. 
Compas Dashboard is the latest product in e-Comas's Compas suite, joining Compas Audit. Built by e-Comas using state-of-the-art BI software, it provides a full, one-stop-shop reporting tool for e-Comas customers.