Global growth, metrics and AI: What we learned at Prosper Show 2023
– Written by Jérôme de Guigné
What happens in Vegas stays in Vegas, right? Wrong!
We've not long been back from Prosper Show 2023, the major US event for sellers on Amazon and other eCommerce marketplaces.
We don't like keeping secrets, so here's an e-Comas round-up of our biggest learnings from the show:
Metrics for the long term
We loved the opening keynote from Cody Griffin of Dr Squatch, talking about the value of TACOS compared to CPA vs Customer LTV.
CPA (cost per acquisition) vs LTV (lifetime value) gives you a big-picture metric of how effective your ads are in the long term, in contrast to TACOS, which only measures a one-time transaction and fails to give you the bigger picture of that customer.
Global expansion
Our own CEO Jérôme de Guigné shared the stage with Jeff Cohen, Tech Evangelist at Amazon Ads, to talk about global expansion strategies on Amazon.
They chatted like old friends about how to scale your business and grow for the future, by employing global branding strategies and tapping into new markets. It was the perfect blend of Jeff's insider Amazon knowledge and Jérôme's long experience in growing brands globally.
The key takeaway was start with logistics, making sure your products can be made available. Then content - localised when going global - and only then move into advertising. Yes, without successful advertising it'll be difficult to achieve. But without a proper supply chain and great content to engage your customers, your advertising money will be wasted.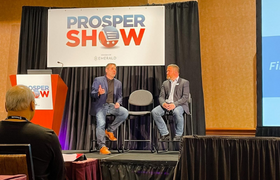 AI use
ChatGPT was a hot topic of the show, as sellers discussed its use for generating listings content as well as aggregating feedback from customers. Some tools like Salsify have announced their platform has integrated with OpenAI to help create product content, for instance.
But ChatGPT has another use: feed it all your customer reviews, good and bad, and get it to summarise what customers like and don't like. This an excellent hack we heard from Kevin King (who was at the show on the Helium10/Pacvue booth) to create great content quicker, which will speak to your audience.
Omnichannel growth
There was a lot of talk about growing across different platforms. Different platforms offer different audiences, and while Amazon dominates globally, the most popular selling platforms vary from country to country.
At the same time, profitability is more of a priority as margins are squeezed, and brands can advertise more profitably across other platforms and channels than on Amazon, where competition for keywords is so high.
It was interesting to see Amazon Multi-Channel Fulfilment sponsor and present at the show, focusing on the Buy With Prime offering. It shows that Amazon is monetising its different services and embracing this evolution of omnichannel.
Also on the advertising side, Amazon has been able to aggregate metrics and data from many different platforms to offer cross-platforms insights with Sizmek
The post-pandemic world
Three years on, we're all still adjusting to life since covid hit. Inflation, supply chain and shipping issues have impacted sellers, requiring extra skillsets and tightened margins.
Profitability is one of the main drivers for sellers now – while brands are still keen to grow globally, it has to be done at a lower cost and as efficiently as possible; you can't afford to pay to learn anymore.
The experts at e-Comas can help you grow your eCommerce business globally, on multiple channels. Get in touch today to find out how!