PXM just got even better: Everything you need to know about Salsify's latest features
– Written by Jérôme de Guigné
Our partner Salsify just gets better and better.
The Product Experience Management (PXM) specialist frequently releases new updates designed to improve the experience of using its product, and help clients syndicate their content across marketplaces more easily and efficiently.
These are our favourite new features from the last six months.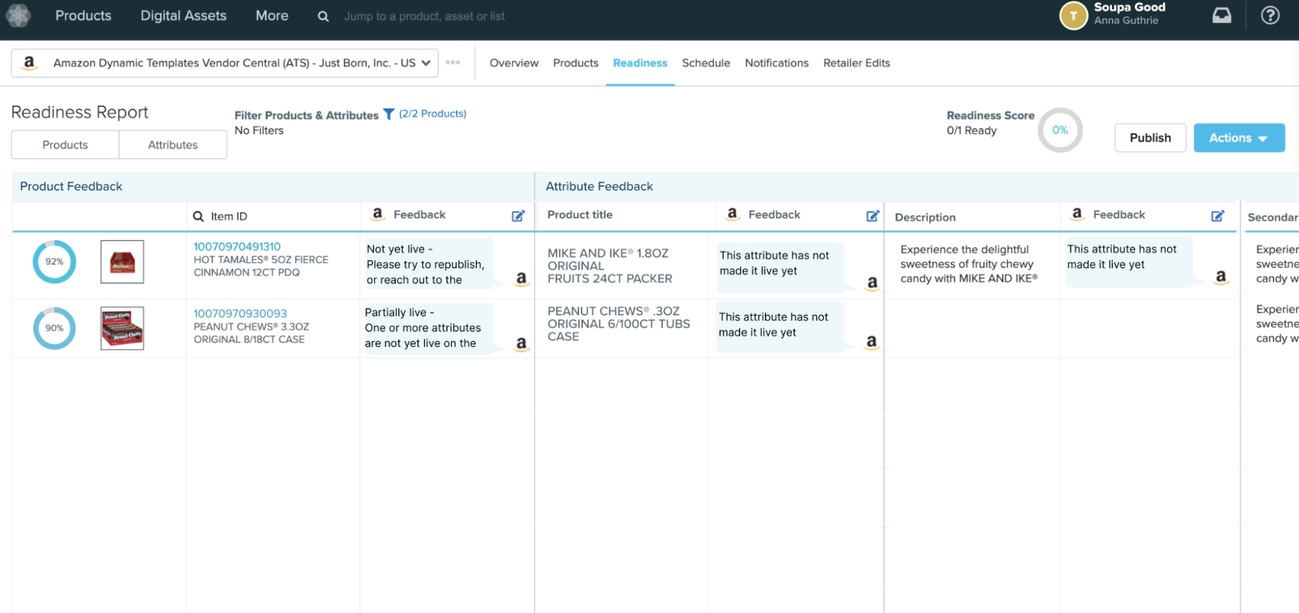 Last Mile Visibility gives Live on PDP status. Picture credit Salsify
Automating business operations
Sites & Experiences Pre-Launch
Salsify Sites & Experiences brings the new version of Digital Catalog, with more options for customisation in the look and feel. It's designed to support brand manufacturers in "developing scalable digital experiences, and deploying them to owned and emerging digital shelves."
With the new Sites & Experiences catalogs, brands can share sets of products and their details with internal and external audiences without them needing access to a Salsify account. 
The first case for Sites will be catalogs where brands can share a set of products and their details with both internal and external audiences, without needing to give them access to a Salsify account.
They'll be able to preview and publish more curated catalogs with better controls to share only "ready and complete" data.
Last Mile Visibility
This feature helps close the loop on product syndication by showing you live on PDP status feedback for your products.
Available on Walmart as well as Amazon, it gives you feedback on whether your content is live, partially live or not active yet.
This shows in the Readiness Report, allowing you to track the full activation journey, and ensuring what is published is what you activated.
Enhanced Content Self Service Property Mapping
Enhanced Content (EC) drives a 15% average increase in conversion. This new feature makes that easier to achieve via self service, so you can publish below-the-fold EC layouts to your product pages without having to request new retailers to be set up by the Salsify team.
You simply select the retailer or retailers you want to publish to, and easily map the retailer property, by yourself.
Bulk Task Worksheet
This one allows you to easily work across a family or assortment of related products, applying edits to shared data to all of them at once.
Enhancements to the Bulk Task Worksheet include:
Fullscreen table experience
87% faster page response time on Rest to GraphQL
Number of products supported in worksheet doubled
Apply values to all or selected products
Responsive table adjusts to content length/type.
Accelerating retail network expansion
Enhanced Content for DTC
You can now publish your Salsify EC to direct-to-consumer (DTC) sites.
You can use the same below-the-fold content that you use on Amazon and other retailers, or create EC that's unique to your DTC to provide a differentiated shopping experience.
This aligns with Salsify's mission to ensure an elevated brand experience at every digital touchpoint, ensuring accuracy, increasing your content's digital reach, engaging more shoppers and helping you win on the digital shelf.
Amazon Enriched Feedback
Salsfiy has made enhancements to its Amazon Selling Partner API for 1P Vendors.
New Enriched Feedback provides visibility into validation errors that occur post-publish as a result of Amazon's downstream systems.
You will soon also be able to return ASINs from AVC into Salsify.
Power commerce
Amazon FBA Inventory
Amazon FBA inventory data is now visible in Salsify, with enhanced visibility into full Amazon FBA operations. This gives you a more holistic view of your Amazon 3P business.
There's a new page in the Orders & Inventory 'Commerce' module with read-only data.
You also get visibility into the Amazon warehouse network – when your product is fulfillable to end consumers, for example, or on its way to Amazon.
Amazon FBA Orders
Brands selling on Amazon Seller Central can now connect with Amazon FBA.
FBA Orders will flow into Salsify, allowing you to include them in performance reports and use them in strategic planning.
About Salsify
Salsify offers product experience management software (PXM) for online sellers, allowing brands to centralise all their listings content and publish to multiple endpoints, which saves huge amounts of time and ensures accuracy, consistency and quality across all marketplaces.
Salsify has two pillars. The first is as a product information management/digital asset management combination, in which to upload your complete listings content, making sure all the product information for each product is in one central location, in your brand language.
The second is syndicating those listings to the different endpoints: Amazon, Walmart, Shopify, your own eCommerce platform, etc. Salsify allows you to do this as easily as possible, formatting the listings so they appear correctly, following the requirements and conventions of each platform.
e-Comas works closely with Salsify to ensure our clients' content is centralised and highly consistent. We help brands get set up on Salsify, coach them in using it and manage their PXM.