What your reviews tell you about your Amazon business
– Written by Ellen Sipp-Paris, eComEngine
Every Amazon seller understands the urgent need to get more product reviews. It's no secret that items with plenty of positive reviews receive more sales and better placement on Amazon's selling platform.
But in the mad dash to boost your review numbers, it's easy to forget about the wealth of information that they actually contain. One of the easiest – of the frustratingly few, might we add – ways to touch base with Amazon shoppers is to read their reviews about your products. Customers are telling you exactly what they like and what they want to see changed, plus plenty more.
In this article, we'll share five things your Amazon reviews are saying about your business and how you can benefit from listening.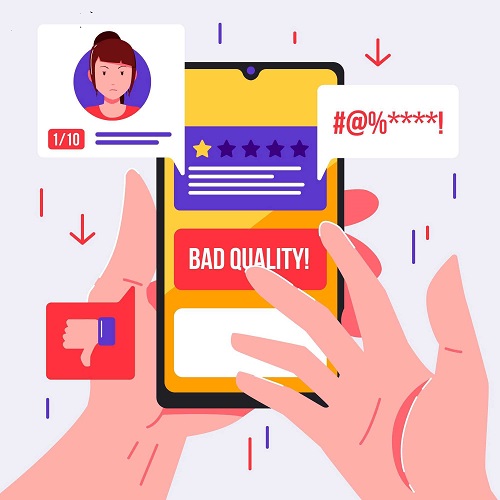 Image by Freepik
1: What to stock up on and promote
It's very common to have a handful of "superstar" products be responsible for most of your product reviews and revenue. If you're lucky enough to be in this position, stay on guard so you don't squander it! This means:
Keeping these popular items in stock. Do everything possible to avoid the dreaded stockout spiral which can tank your reviews and Best Seller rankings in the blink of an eye.
Reading your review comments. After you take a moment to celebrate your 4- and 5-star review victories, try to learn from your 1- and 2-star failures. Is there some winning formula that can be replicated with your struggling products? Perhaps it's as simple as improving your image quality.
Monitoring your average review ratings. If you notice a rapid decline, don't hesitate to find out what went wrong. Was there a fulfillment issue with Amazon or a problem with a supplier? Has a new competitor emerged and taken over the market? Come up with a plan of action as you don't want to suddenly be stuck with negative reviews and excess inventory.
Ramping up your Amazon ads. Products that are retail-ready (those with at least 15 positive reviews and a 3.5-star rating) are naturally going to fare better on the ad front. Don't waste valuable ad dollars on products that aren't set up to succeed. Effective advertising campaigns are always rooted in a smart review strategy.
Positive reviews that increase buyer confidence typically lead to more sales, which then results in more reviews. It's a great cycle to be in! Do your best to get there by selling a quality product and clearly communicating its value.
2: What to rethink or retire
Remember, product reviews are a measure of customer satisfaction. Negative reviews are an obvious sign that buyers aren't happy. Here are some common reasons why:
Subpar product quality
The item received wasn't as described
Misleading product images
Inaccurate listing information.
Take a closer look at the negative reviews for each one of your listings. If you see any trends emerge, like packaging issues, faulty materials, or design flaws, it's probably in your best interest to stop reordering that product until the problems have been resolved. Or, at the very least, you may want to exclude those defective SKUs from your review requests so you don't end up encouraging more negative reviews.
Once you've made some improvements, check back to see if your reviews and sales have rebounded. Keep in mind that not every product will be perfect all the time – the occasional negative review is normal and expected.
However, if you can't turn things around after some troubleshooting, it may be time to stop selling the item for good. In today's tumultuous economic climate, it's far too costly to be carrying products that don't give you much in return.
3: What improvements you can make
Having the right keyword and marketing strategy can make a huge difference in how customers find you and ultimately purchase and review your products.
Continue to analyse your reviews – both positive and negative – in search of common words or phrases. (Short on time? You can also find frequently used phrases on the "Read reviews that mention" section on your item's Amazon page.)
These keywords tell you how buyers are perceiving your products. Are you missing any terms in your listing content that will more accurately describe your products or help make them more discoverable to buyers?
Again, be sure to pay particularly close attention to your negative reviews. Can the root cause be traced back to missing listing information or confusing product images? Be sure to correct this right away! When your listing sets the right buyer expectations right from the start, you have a much better chance of making a sale and receiving a positive review.
Your negative reviews may be painful now, but learning from your mistakes can only make your business stronger in the future.
4: What to sell next
Many Amazon shoppers, especially those with Prime accounts, visit the marketplace multiple times a month. All the time and money spent there means they know what they want – and they're not shy about saying so.
By now, you know not to let that valuable intel go to waste. Your next successful product could come from a suggestion by one (or even several) of your buyers. Pay attention to those "it would be better if it had ___" or "I wish it did ___ instead" comments; they can easily inspire a new-and-improved product that flies off the virtual shelves.
Or, if enough buyers feel that your product is good but it's just missing something else that would make it great, see if you can fill the gap by selling a complementary product in a bundle.
Another smart way to find new product ideas is to analyse the reviews of products from your top competitors. What do these buyers like and dislike? Maybe something there will spark an idea. Just be very careful not to encroach on a competitor's intellectual property.
5: What you need to watch out for
Amazon has a very strict review policy that includes how to get reviews and what can be posted by reviewers. While you can't ask a buyer to change or remove a product review, you can request that Amazon remove it if you believe it goes against these rules.
Doing so is simple; click the "Report abuse" link on the product listing or email Amazon Seller Support at community-help@amazon.com. Remember to include the ASIN, the date and time of the review, the reviewer's name, a link to the review, and the specific violation.
Staying up to date with Amazon's review policies can help you protect yourself as a seller. Similarly, you should also know how to identify a fake review. Here's what to watch out for:
Sudden unexplained increases in positive or negative reviews
Similar language across multiple reviews
Reviews with no mention of the product or content about an entirely different item
Several suspicious reviews posted one after another.
Enrolling your products in the Amazon Brand Registry program is also highly recommended as you'll be able to respond to negative reviews from buyers and exert more control over your listing content to curb hijackers.
How to get and monitor Amazon reviews
Getting excited to dig in and see what your own reviews have to say? Great! But what if you don't have much to go on? And what's the best way to monitor your reviews in the first place?
When it comes to getting more Amazon reviews, you can enrol new products in the Amazon Vine program to try and jumpstart your reviews post-launch. You'll need $200 per parent ASIN to get started, and a good review isn't guaranteed (nor should it be!).
Other options include logging into Seller Central and individually requesting reviews for each order via Buyer-Seller Messaging or the Request a Review button. Amazon's Request a Review messaging is 100% compliant with the marketplace's review policies and has historically been very effective with buyers. However, if you're like countless other Amazon sellers, you don't have time to hassle with individual review requests.
You can find tools that connect with the Amazon API, like eComEngine's FeedbackFive, in the Selling Partner Appstore. As the top-rated feedback and review software in the appstore, FeedbackFive allows you to create the review campaign of your choice and schedule your requests to reach more buyers in bulk.
FeedbackFive also includes text and email alerts for new reviews received and makes it possible to monitor your reviews with minimal effort. The software automatically tracks the reviews of your top-selling products and compiles detailed review analytics so you have the data you need to make the best decisions for your business.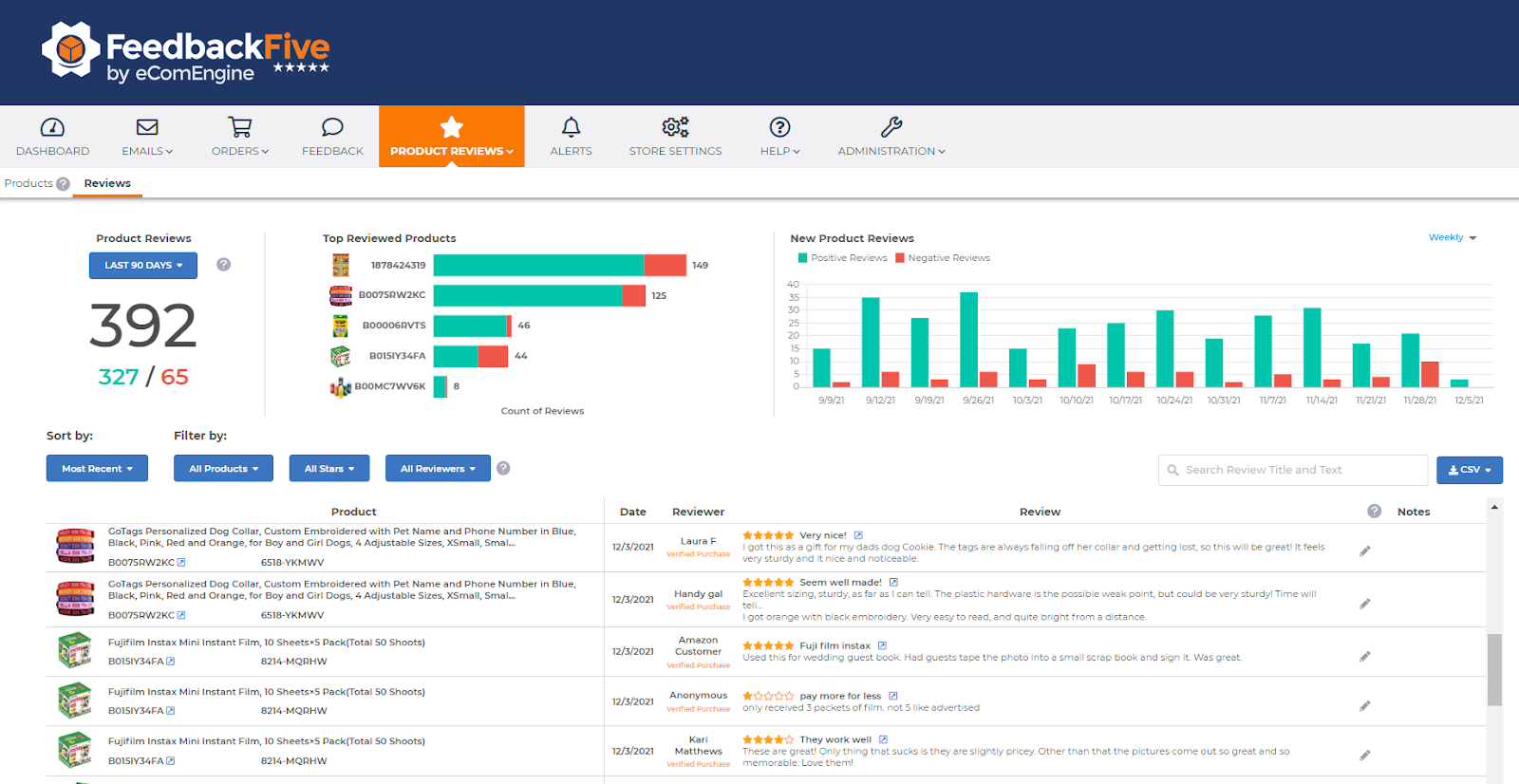 Amazon Reviews: A vital resource for your business
There's no downplaying the power of your business's Amazon reviews. They truly are one of your brand's biggest assets. With so much valuable information right at your fingertips, it's up to you to take note and, more importantly, take action.
If you need more help with your review strategy or would like to give FeedbackFive a try, please contact us or start your own free trial!
About the author
Ellen Sipp-Paris is the Content Manager at eComEngine. Her goal is to help educate Amazon sellers so they feel more confident in what can be a complicated marketplace. When she's not writing, she enjoys taking nature walks, reading, and going to concerts.