The e-Comas guide on how to win the Amazon Buy Box
– Written by The e-Comas Team
Competition on Amazon has never been fiercer. Everyone wants that precious golden box on the right of the screen that customers almost automatically select. It's the holy grail of any Amazon business - everyone wants it. We're talking about the Buy Box! 
Who gets the Buy Box is a decision for Amazon's algorithms, and the details of which are one of Amazon's best-kept secrets. But there are known ways to increase your chances of winning the Buy Box, including low prices and high customer ratings. Sellers can also win the Buy Box by joining Amazon Prime and offering free shipping on certain orders.
Knowing how the Amazon algorithm works and how it determines who gets the Buy Box will help you beat your competition. Read on to learn more about what the Buy Box is, who's eligible and our top tips on winning it.
What is the Amazon Buy Box?
The Amazon Buy Box is the area on an Amazon product detail page where customers can add the item to their shopping cart or buy it right away. You'll have come across the Buy Box before – it's the box that appears on the right-hand side of a listing, where the "Add to Cart" and "Buy Now" buttons are located.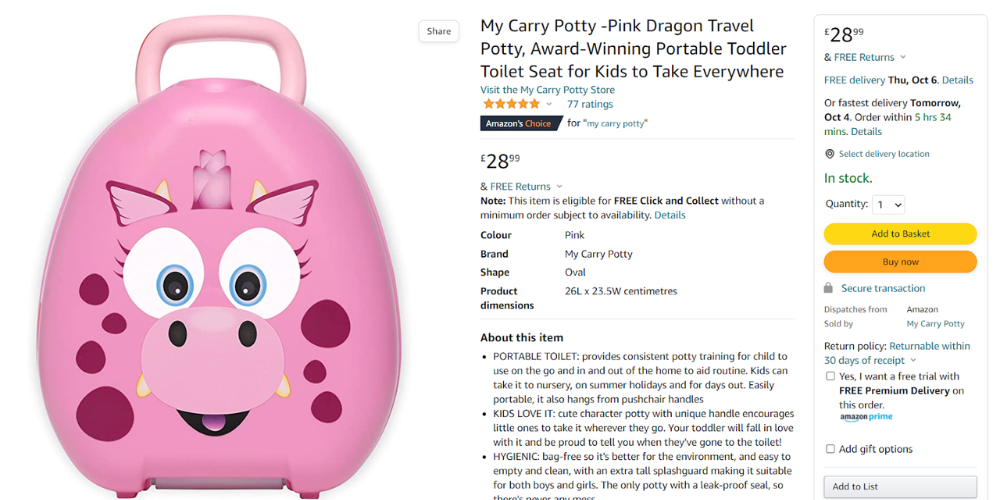 The Amazon Buy Box has a lot of power in determining who wins the sale because it's usually placed at the top of a product detail page and always visible. It's also prominently displayed for customers browsing products using a mobile device, so your chances of winning the sale are even higher.
Who's eligible for the Buy Box? 
Good news for Fulfilment by Amazon (FBA) Sellers! Using Amazon FBA fast-tracks your way to Buy Box eligibility, and your FBA new offers are automatically eligible to win the special box.
If you're not an FBA Seller, you must sign up for a Professional Seller account, which costs extra. You should also be aware of the performance metrics Amazon uses to decide who gets the Buy Box, which includes order defect rate, cancellation rate and late shipment rate. 
Amazon also uses your order volume to assess your performance, so you must ensure you have sufficient order volume.
In short, the better you perform, the more likely you will become Buy Box eligible. 
Why is the Amazon Buy Box so important?
The Buy Box is a prime spot for sales. Most sources cite that at least 80% of Amazon purchases are made via the Buy Box. So it's no surprise that it's the hottest piece of eCommerce real estate. It's the place to be seen, build trust with prospective buyers and increase sales.
If that wasn't enough, here are some more Buy Box benefits:
Exclusivity: Since only one Seller of a product can win the Buy Box, you're the only Seller of your product with the handy one-click buying option.
Visibility: Meeting Amazon's Buy Box criteria mean you're more likely to be given higher exposure and, therefore, secure more sales.
Ease of use: With fiercer online competition, you want to make it easy for customers to buy your products. 
What do Sellers have to do to win the Amazon Buy Box?
Amazon's algorithm takes many factors into account when awarding the Buy Box, including but not limited to the following:
Listing price
Product availability
Delivery speed
Good customer service.
Here are 6 key tips to increase your chances of winning the Amazon Buy Box. 
1. Enrol in FBA
This is probably the biggest one. Amazon prioritises the customer experience and wants customers to buy products that are Fulfilled by Amazon (FBA). Using FBA, you'll get perfect scores for variables like shipping method, on-time delivery and inventory depth.
So, enrolling in the FBA programme can significantly increase your chances of winning the Buy Box when competing against FBM sellers.
That's not to say it's impossible for Fulfilled by Merchant (FBM) Sellers to beat FBA Sellers. It's best to look at the big picture to decide which fulfilment method is more beneficial for you cost-wise.
Seller-Fulfilled Prime (SFP) is another option that can put you in Amazon's good books too!
2. Ensure your account is in good standing
Good customer feedback is a sure-fire way to put you in favour with Amazon's algorithm. Amazon reviews feedback from the past 30 days, 90 days and 365 days and maintaining an Amazon feedback rating of 90% or higher will increase your chances of winning the Buy Box.
Increase your feedback organically by providing the best customer service. There are many ways to do that (see the next tip), including providing honest, detailed and relevant product information on your product listing pages.
Using feedback software to generate automated emails can help you get more feedback. Our friends at eComEngine offer an ideal solution with their FeedbackFive tool.
3. Have the best customer experience
Speeding delivery, shipping options, accurate listings and competitive pricing are all things that contribute to a great customer experience. And they're things that shoppers have come to expect.
By providing excellent customer service, you're also more likely to get more positive feedback, increase conversions and build your brand reputation. These are all things that will help you secure the all-important Buy Box. 
4. Have an excellent Order Defect Rate
Speaking of customer service standards, Order Defect Rate (ODR) combines your Negative Feedback Rate, A-to-Z Guarantee Claim Rate and Service Chargeback Rate. And Amazon keeps track of your short-term and long-term ODR, spanning the past four months.
Maintaining an ODR of less than 1% is key to winning the Buy Box. Exceed that, and winning the golden box will be challenging. 
5. Maintain healthy inventory
It's simple; you must have inventory of your listed items. If your product is out of stock, the Buy Box will usually rotate to another Seller. Avoid this at all costs by making sure your inventory is accurate, that you have enough supply to meet demand and that you have plans for restocking where needed.  
6. Monitor your performance metrics
Your account health plays a big part in your Buy Box eligibility. There are many performance metrics to keep an eye on, including Order Defect Rate, Cancellation Rate, and Late Shipment Rate. So, understanding these metrics is essential.
Check your Amazon Dashboard regularly to avoid instances that could limit your chances of winning the Buy Box. You can increase your performance metrics in several ways, such as:
Reducing claims and chargebacks
Minimising negative feedback
Responding to shoppers' messages
Avoiding late shipments.
Why aren't I winning the Amazon Buy Box?
Usually, people think the lowest-priced offer wins the Buy Box, but that's not always the case, advises e-Comas's Head of Consulting Nazlı Kayıkçı.
Let's take a look at an example: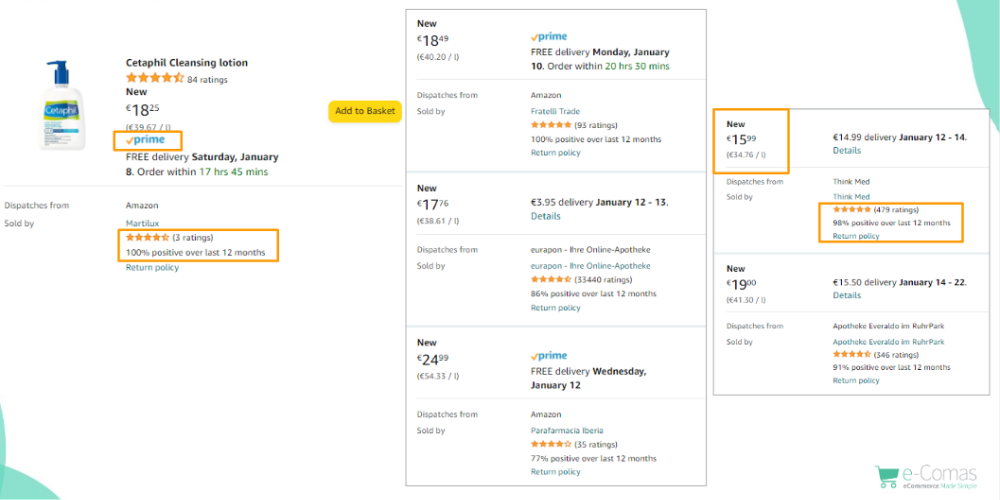 Nazli explains: "In this instance, the cheapest offer doesn't have Prime delivery, and the buyer rate is 98%. So, the offer with 100% and Prime delivery wins the Buy Box even though it's priced a bit higher.
"Sellers should detect why they don't have the Buy Box and resolve it. If they offer Prime delivery and have a good rating, then it's usually only a pricing issue."
The landed price - a product's final cost, including shipping on Amazon - is one of the most critical factors in winning the Buy Box. But remember, the lowest price won't guarantee you the Buy Box. Focus on competitive pricing and having high account metrics.
What should I do if I lose the Buy Box? 
Losing the Buy Box might be down to several reasons. The first thing you should do if you lose the Buy Box is pause your Amazon Adverting, advises Nazli. Then detect and resolve the Buy Box issue before spending more money to drive traffic to your listings. 
Our last piece of advice?
Just be the best.
There are only so many tricks you can employ. Ultimately to get the Buy Box, you must be the best Seller. Easier said than done, right? 
With the right team of experts like e-Comas on your side, winning - and keeping - the Buy Box is achievable!